Clematis Street 300 block
Click here for a great tool to compute the walkability index of Clematis Street, downtown West Palm Beach, or any other area

Click here for a recent study connecting walkability with home values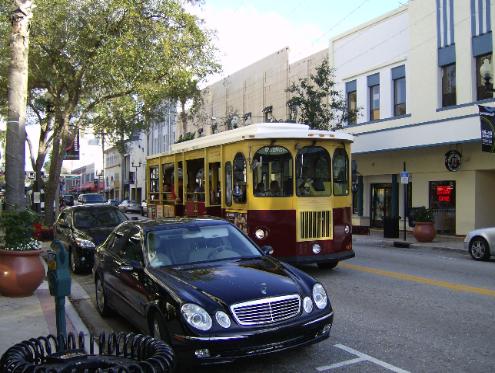 Click here for description of the downtown trolley (pictured above)

Businesses on 300 block north side (listed from east to west)

Home World (shop, around corner)
Roxy's (sports restaurant and bar)
Sky 365 (Roxy's rooftop bar)
Club 313 (nightclub)
Finer Optics (eye glasses)
The UPS Store
Michael's Jewelers
Eileen's Travel
Myers Luggage
Provident Jewelry and Loan
J.C. Harris & Co (men's clothing and shoes)
House of Fashion
Subway (lunch sandwich chain, around corner)


Businesses on 300 block south side (listed from east to west)


Hot Pie Pizza (new restaurant, around corner)
One Eleven Salon (salon, around corner)
Don Ramon's (Cuban restaurant)
Mambo's Italiano (Italian restaurant)
Maine Cottage (furniture)
Off The Hookah (restaurant and nightclub)
Jimmy John's (sandwiches)
Palm Beach Segway (segway tours)
Hong Kong Express (Chinese fast food)
Arepera (Arepas fast food)
Uncle Louie G's Italian Ice & Ice Cream
Legacy Fine Art (gallery)
Bahama Mama's (Caribbean/seafood restaurant)
Jenny's Alterations & Tailors (around corner)
Sanctuary Barber Shop (salon & spa, around corner)
Leila (restaurant, around corner)


Roxy's website
UPS Store website
Eileen's Travel website
Myer's Luggage website
Maine Cottage website
Jimmy John's website


The 300 block of Clematis has a combination of businesses but traditionally, it's known for its stores. There are several stores that have been there since the 1920s, making this a truly historical block. In addition, there was a new wave of furniture stores opening up in recent years, making this a great destination for those in need of furniture. (Unfortunately, the Z Gallerie, the largest of those furniture stores, closed its Clematis location in January 2009).
In addition, there are some restaurants (such as Roxy's) and nightclubs. Also, the 300 block houses the famous Jimmy John's sandwich shop, which is extremely popular for the lunch crowd. Behind Jimmy John's, there is an area with various other fast food type businesses, and a new eating place called Massa's opened in 2008 replacing another business that had disappeared last year (but it closed June 2009).
The wave of new restaurants now opening on this block is nothing short of amazing. Hot Pie Pizza opened around the corner in 2009. Soma (a vegan cafe with yoga) will be opening soon at the corner, along with the much-heralded Don Ramon's Cuban restaurant, including its 24-hour walk-up window. Next door to that, Mambo's Italian restaurant has already opened, and next to that, the huge "Off The Hookah" restaurant and nightclub will also be opening soon. Further down the street past Jimmy John's, Uncle Louie G's Italian Ice and Ice Cream has already opened. Finally, on the other side of the street, Roxy's has opened up its rooftop bar, which is already serving drinks and will become another new restaurant in the coming months.
The 300 block was hurting in early 2009 but has seen an explosion of activity and new businesses later on in the year. But let's not forget the pre-existing businesses "around the corner" from the 300 block -- those businesses located on Olive or Dixie Highway within one block of Clematis Street. These businesses include two major salons, a tailor, a cigar shop, Leila's Restaurant, the new Hot Pie Pizza restaurant, the Home World store, and the ever-popular lunch chain Subway. The Subway, right across Dixie Highway from the new City Center, is always packed at lunch time, yet the servers are very efficient so even if the line is long, you'll get the sandwich you want relatively fast. Finally, a new Relaxation Remedies store has recently moved from City Place to a store space near Jimmy John's.

Click here for a discussion of the proposed conversion of the office building on this block into a hotel

Click here for a discussion of hotels in downtown West Palm

Link to Roxy's website

Link to Jimmy John's website

Below is a picture of the 300 block outside of Roxy's during the 2009 St. Patrick's Day block party. Below that is another picture of the 300 block on a quieter day.