Clematis Street 400 Block
Click here for description of the awesome new City Library

Click here for pictures of the City Center landscaped courtyards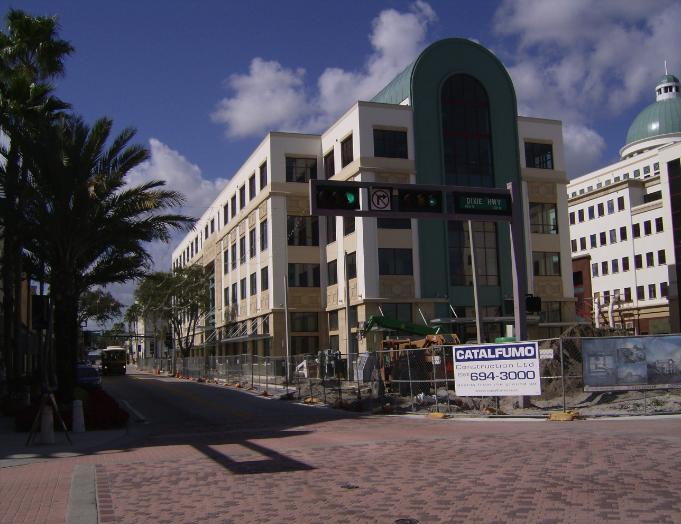 Businesses on 400 block north side


City Center cafe
City Center (City Hall, City Library)
Palm Beach Photographic Center


Businesses on 400 block south side (listed from east to west)


Dempsey Cafe (food, around corner)
Ultima Fitness (healthclub)
Ultima Fight Club (boxing)
Expedited Travel
Main Street (events)
Center City Pharmacy (store and pharmacy)
Frame Smith
Extra Touch Flowers
Mac Fabrics
Sir Speedy


Ultima Fitness website
Expedited Travel website
Extra Touch Flowers website
Mac Fabrics website
Sir Speedy website


The main feature of the 400 block of Clematis St. is the City Center project, which was completed and fully occupied in mid-2009. The cloud that hung over the project during its initial construction phase was lifted in 2008 when the group that was suing the City over the project reached an agreement with the City. This great project has added considerable life to the 400 block of Clematis St. and all surrounding blocks. The City Center includes the new City Hall, the new city library (which moved from the 100 block of Clematis Street), and the Palm Beach Photographic Centre.
In February 2009, workers put in sidewalks and landscaping around the City Center, one of the last steps before completion. Large and small palm trees appeared all around the grand entrance to the new City Hall and library. The various city offices moved from their other locations dispersed throughout the city, into the new City Hall, in the third week of March. The library also began its move at that time, and the moves were completed by early April. Parking spots were allotted in the new parking garage in the 500 block of Clematis Street for all the new workers coming to City Center. This frees up more space in some of the other garages near the eastern blocks of Clematis Street for the general public.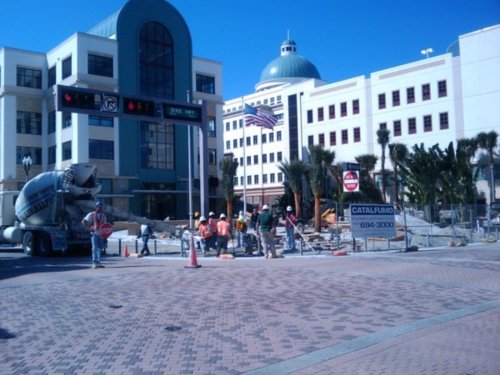 Link to City of West Palm Beach site City Center information

Click here for a review of the pharmacy directly across the street from the new City Center
---
City Center in August 2007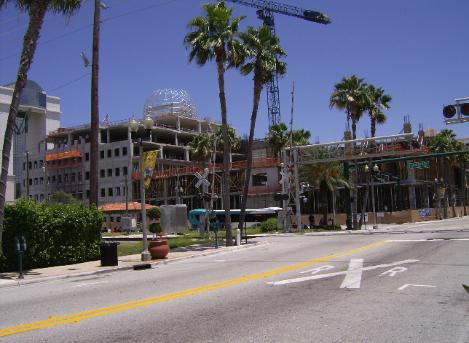 City Center in 2008