Clematis Street 500 block
Click here for discussion of the recent resurgence on the 500 block

Click here for discussion of the current struggles on the 500 block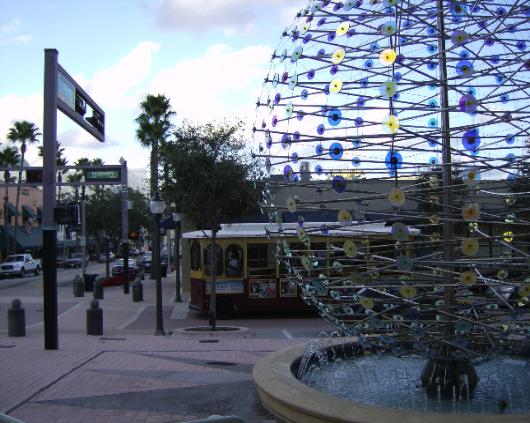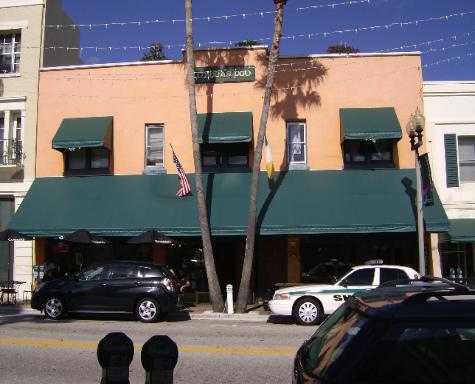 Businesses on 500 block north side (listed from east to west)


The Raw Kitchen (raw food)
Velocity Cycling Studio (cycling)
Lars Bolander (only by appt)
The Lounge (nightclub)
Kavasutru Tu (kava bar)
Clematis Pizza (pizza)
O' Shea's (Irish pub)
Cabana Nuevo Latino (Cuban restaurant)
Habatat Galleries (glass sculptures)


Businesses on 500 block south side (listed from east to west)


Respectable Street (nightclub)
Authentic Provence (art gardens store)
Yankee Dogs (24 hour restaurant)
Urban Dog Sitters (around corner)
Shoe Repair (shoe shop)
Psychic Readings


Cabana Nuevo Latino website
O' Shea's website
Respectable Street website
Authentic Provence website


The 500 block of Clematis St. is located just west of the railroad tracks, between Quadrille and Rosemary Ave. This block is best known for its series of bars and nightlife. Arguably the signature business on this block is O'Sheas. The author must admit to never having set foot in O'Sheas. Nevertheless, all indications are that it is an extremely popular destination for drinking, eating, and relaxing. Nearby there is a nice Italian eatery called Napoli's and there are also several more "late-night" type clubs where young people congregate to hear various musical groups and revel on weekends. And this year the new Phat Sandwiches shop has opened up on the west end of the block. But other than that, to be honest, the 500 block has typically housed quite a few empty storefronts, including some old run-down buildings. However, the block is in the midst of a very significant resurgence (see link at top of this page which describes all the 2009/2010 changes).
The West Palm Beach Downtown Development Authority is well aware of the need for development on this block and is focused on attracting some new businesses here over the next year. The City of West Palm Beach just built a massive new parking garage on the east end of the block (see picture below), so the infrastructure is here to support plenty of visitors now that the City Center and library has opened up in the adjacent 400 block in April 2009. This should make the block a better location for new businesses going forward. The old Badcock/Spanky's buildings on the east side next to the tracks have now been completely demolished and removed, and there is talk of a spiffy new office-condo building going up on that site. It is going to be very interesting to see the additional progress that takes place on this block in 2010.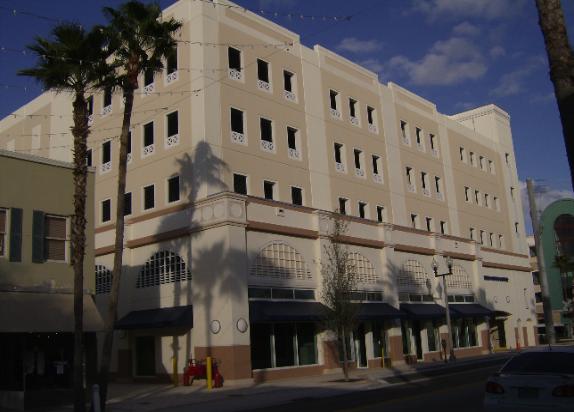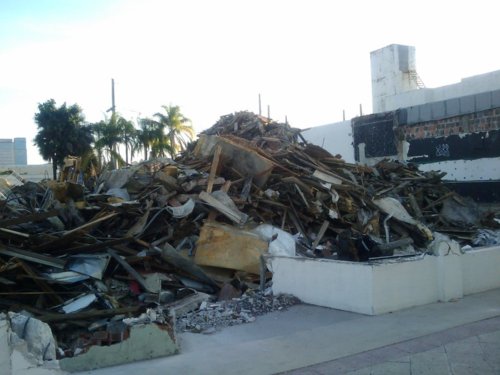 Link to O'Shea's site

Click here to find out about major changes to the bus routes impacting the 500 block

Click here for information on the new Phat Sandwiches restaurant
Clematis Place
REG Architects has drawn up the below proposed design for a possible office building to be located on the 500 block of Clematis Street. The office building would rise above the existing Sewall Hardware building fronting on Clematis Street. What do you think of the prospect of having this office building on the 500 block? Please click on the Comment tab on the left side to provide your comments.