CityPlace
Click here for a 2009/2010 holiday update on City Place shops and restaurants

Click here for a list of all current shops and restaurants in CityPlace

Click here to read about prospects for the expansion of CityPlace toward the north

Note that, of 94 available spaces for retail shops or restaurants at City Place, 80 are currently occupied with open businesses as of July 2009. And of the 14 vacant spaces, only 3 are large restaurant spaces, all of which have been lined up with great future occupants (McCormick & Schmidt's, French Carousel Can Can Cafe, and B.B. Kings Blues Club). This is a terrific occupancy rate (85%) for this economy.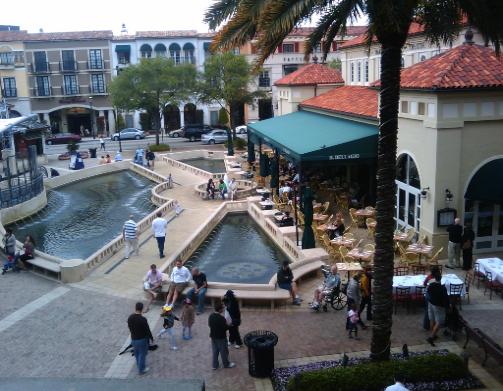 CityPlace is a massive outdoor mall with extensive food, entertainment, and shopping in downtown West Palm Beach. It is not on Clematis Street, but it's very close to Clematis Street (and connected by the free trolley which goes back and forth between CityPlace and Clematis Street every 5-10 minutes) From the 500/600 block of Clematis Street, take Rosemary Avenue three blocks to the south, and you'll be there in CityPlace.
CityPlace was built in the early 2000's in an area that used to be a rather impoverished neighborhood. Now that area is unquestionably the heart of West Palm Beach, probably the most popular tourist attraction, and all of the areas around it have become much more upscale. At first CityPlace took some business away from Clematis Street, but now they co-exist together feeding on each other's success. CityPlace is also very quaint but it has a much more modern feel to it, whereas Clematis Street is still the historical soul of West Palm Beach. Together, they are the heart and soul of West Palm.
It doesn't normally snow in West Palm Beach (in fact, it's never cold enough to snow in West Palm Beach). However, CityPlace figured out a way to make it snow regularly during holiday evenings this winter (see picture below).




Click here for the CityPlace website

Click here to see how close City Place is to Clematis Street

Click here for a discussion of the recent expansion of food varieties available at City Place

Click here for information on the bookstore in CityPlace

Click here for more information on the Kravis Center for the Performing Arts, located right next to CityPlace